Bird & Animal Life on Kilimanjaro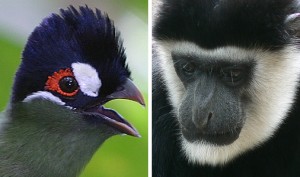 Kilimanjaro is situated in a region of spectacular natural beauty and diversity. Close to the Kilimanjaro National Park are the premier wildlife areas of Ngorongoro Crater and Serengeti National Park, as well as Lake Manyara National Park, Arusha National Park and Tarangire National Park. All of these rank amoung the world's premier wildlife conservancies.
Kilimanjaro National Park itself is not primarily known as a wildlife destination, but it is an example of tropical highland habitat, with all the various associated ecological zones, and in particular the verdant cloud forest. This allows for a diversity of smaller species of animals, but even more so an astionishing diversity of indigenous birdlife. Even if you are not an enthusiast, you will not easily be able to visit Kilimanjaro without being struck by the variety and colour of local bird species, and perhaps you will be lucky enough to see a few of the many animals that live on the flanks of this great mountain.
Related posts
Mt. Kilimanjaro News
RSS Feed Subscription
Reader Comments
Useful pages:
Related travel information:
More BootsnAll Travel Websites: